The Home Office has just released their statistics on firearms licensing for England and Wales and Police Scotland has done the same North of the border. As a Trade we need to give these some attention. I would certainly recommend those with an eye for detail to visit the published pages and the data tables to do your own analysis. In England and Wales, for example, there are data down to police force levels.
As you've seen in the GTN headlines, certificate holders are dropping – about 5% down in England and Wales but less than 2% down in Scotland. But interestingly, the total number of firearms held on certificate across both areas has increased slightly. The number of registered firearms dealers remains steady.
You have heard me bang on about the enduring need to bring young blood into our shooting sports. If you ever needed convincing that we all need to do more, then the latest Home Office statistics on firearms licensing provide some startling realities. The numbers show that almost 70% of certificate holders are over 50. Of course, not all shooters come into the sport in their early years but there is a significant decline in the applicants between 18-49. Between 2017 and now we are seeing half the number of certificate holders in the 14-17 age group and about a 14% reduction in the 18-34 age group.
This should be a wake-up call for us all.
We made huge gains during the lockdown with the sale of airguns – many of which will have introduced youngsters to shooting. Now we must find ways to bring on that group with their shooting ambitions. Whether the next stage is small bore rifle, clays or pigeon shooting, think about what you can do to develop your potential customer base. With so many of you providing a fantastic service looking after guns for those awaiting renewals etc., please also provide encouragement for shooters to get their guns out when they can and engage with their sport. All too often, after a period away from the range and when funds are tight, it's easy for folk to wander.
Rekindle their interest, advertise events, generate new networks, buy a new gun….!
Some of these drops can be laid at the efficiency of police departments, some at the greater number of people leaving the sport, than joining. What is clear right now is that delays in licensing are preventing those who desire to pick up shooting as a sport, from getting on with it and spending their savings with us. Just today I challenged the national police licensing representative to push for a re-prioritisation of grants. I made the point that for small companies in particular, grant delays have a direct impact on cash flow and the survivability of businesses. He undertook to raise the issue at the FELWG meeting next week and report back.
Finally, on statistics, there is a table at the end with details of lost and stolen firearms.
The data has only been published in the last two years but the number has increased. Over 400 items were reported, with 335 shotguns lost or stolen. These figures do no credit to the shooting community and only lead to more demands for revocations and a tightening of the law. Of the 335 shotguns, 118 were 'lost'. I have no idea how you can lose a shotgun, but I am absolutely sure they will end up in the wrong hands. Likewise, obviously, the stolen guns. We cannot carry on like this. Restrictions will be placed upon us. Whether as a certificate holder yourself or as a dealer, we must maximise the security of firearms.
In the coming months, you will see reminders from the police about security, especially as the game season approaches. Please help us all by reminding your customers and fellow members of your clubs and shoots, of the importance of protecting guns and ammo. Coming from an RFD, they should be alert to your message.
Thankfully this industry is not all about doom and gloom. I very much enjoyed visiting the Scottish Game Fair with its traditional, intimate offering – for 32,000 visitors! It was good to see many of you there. Next year we would all like to see more gun trade stands there, especially if you have something special to offer. By increasing the offer, the show will attract more shooters with a will to buy kits. It's called a 'game fair' for a reason!
Then Ragley Hall next - 29-31 July. I understand Gunmakers' Row is looking good with notable attendance from the Trade. We will be running the Gunmakers' Theatre again with a variety of presentations throughout the weekend. Some well-known names – Bill Blacker, Simon Reinhold, Diggory Hadoke, Mark Osborne, Dave Mills, Gavin Gardiner amongst others– all talking on their specialist topics and ready to answer the inevitable questions about lead.
If you've finished putting up your stands on Thursday evening and need some liquid refreshments, please drop by for some Trade Drinks. Together with the GTN team, Lin, Kerry and I always appreciate a chance for a face-to-face chat and to talk more about what we are doing behind the scenes to deal with the big issues.
See you there.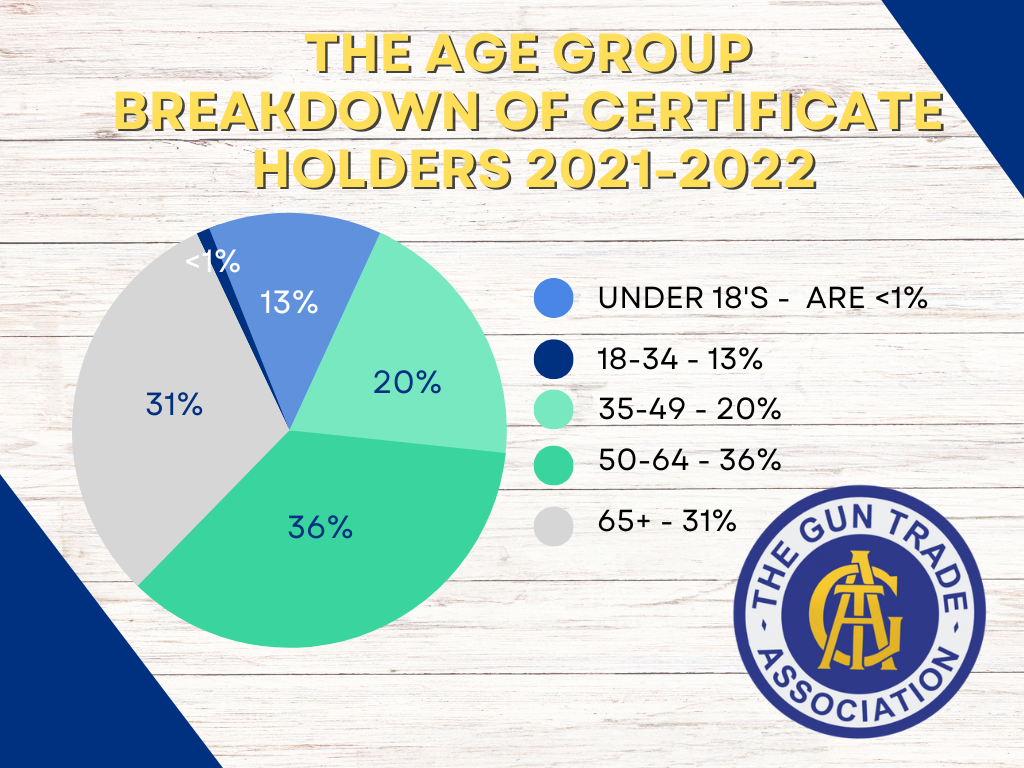 This graph shows the age group breakdown of certificate holders 2021-2022.